XXVI edition - SAFE FROM THE START - Introduction


Patronates:
| | | |
| --- | --- | --- |
| Minister of Family, Labour and Social Policy | | Chief Labour Inspector |
| | | |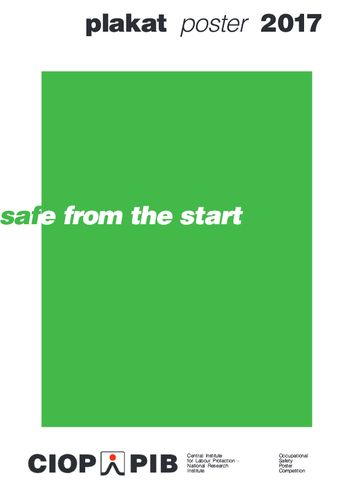 The Organizers:
CIOP-PIB in cooperation with:
The Academy of Fine Arts in Kraków
The Academy of Fine Arts in Łódź
The Academy of Fine Arts in Warsaw


The Poster Exhibition


22 June 2017 there was a grand opening of the Poster Exhibition "Safe from the Start" combined with awarding prizes to the winners. Participants from institutions and central offices included: Anita Gwarek - Director of the Labor Law Department of the Ministry of Family, Labour and Social Policy, Dariusz Mińkowski - Deputy Chief Labour Inspector, Wiesław Taranowska - Vice-President of the Nationwide Trade Union Agreement (OPZZ), Renata Górna - Nationwide Trade Union Agreement (OPZZ), Katarzyna Kitajewska - Head of the Hygiene Department of the Main Sanitary Inspectorate, representatives of creative circles, higher education institutions and primary schools.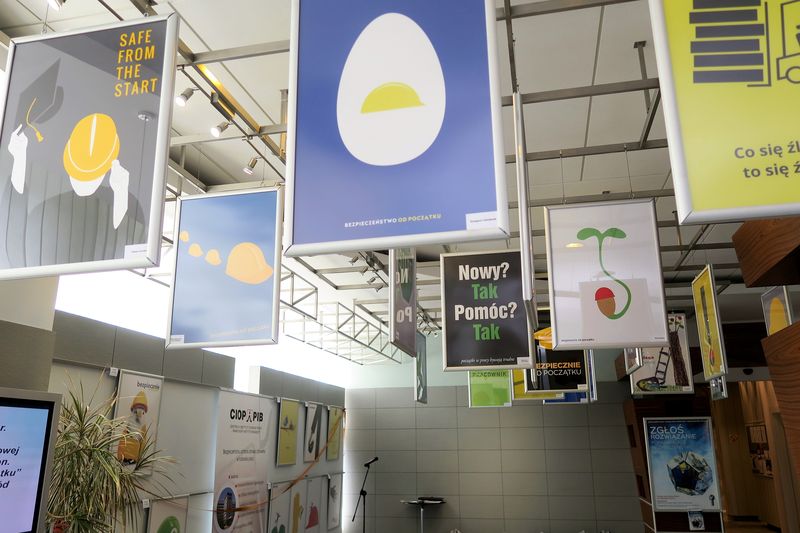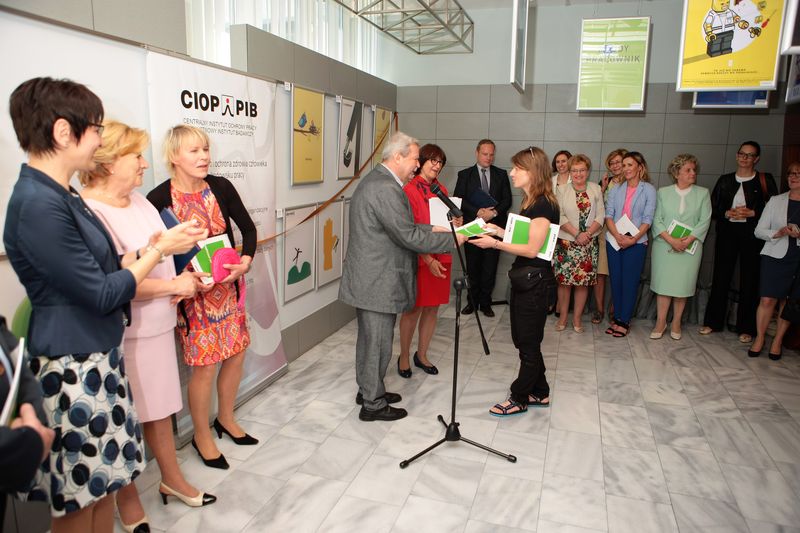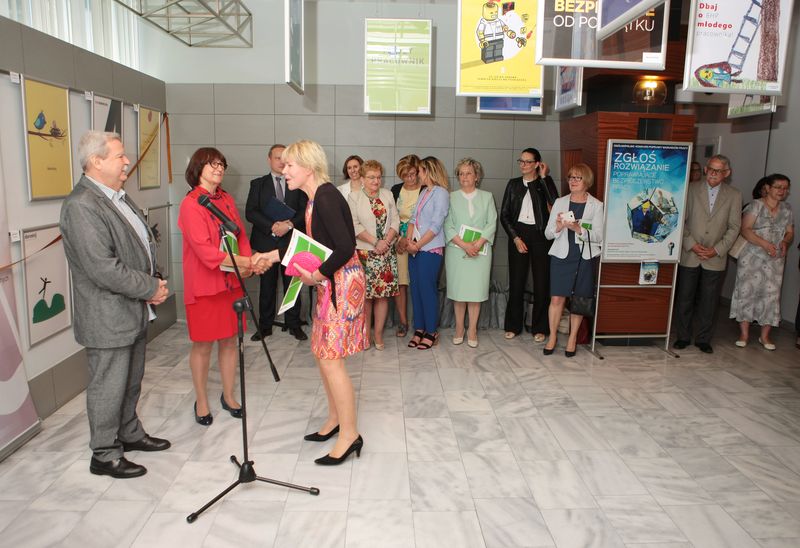 1st prize
Anita Jaźwiec

2nd prize
Małgorzata Komorowska

3rd prize,
Anita Jaźwiec

Safe from the start.
Bezpiecznie od początku.

Don't be a scatterbrain at work.
Nie bądź zakręcona w pracy.

Greenhorns need extra protection at work.
W pracy zieloni potrzebują dodatkowej ochrony
Distinction (equal)
Marcin Błaszczyk
Małgorzata Komorowska
Maciej Mytnik

Mentoring
Mentoring

It was my first job
To byłą moja pierwsza praca.

So lame
Ob-ciach.

Maciej Mytnik

Maciej Mytnik

Maciej Mytnik

Grow up. Safety is no game.
Dorośnij. Bewzpieczeństwo to nie zabawa.

Bartłomiej Stokłosa

Breakfast in the fridge. Take out the garbage. Don't forget a helmet. Good luck in your 1st job! Mom.
Śniadanie masz w lodówce. Wyrzuć śmieci. Nie zapomnij o kasku! Powodzenia w pierwszej pracy!! Mama.
Authors of works selected to be presented at the post-competition exhibition and in the catalog (including awarded and honored)
Błaszczyk Marcin
Bródka Jarosław
Cielma Katarzyna
Durišić Vladan
Figus Justyna
Halczak Mateusz
Hańderek Grzegorz
Jaźwiec Anita
Kołaczyk Józef
Kołodziej Jagoda
Komorowska Małgorzata
Kondratowska Marta Małgorzata
Longawa Patrycja
Łopalewski Piotr
Mamrot Agata
Myczkowska – Szczerska Anna
Mytnik Maciej
Pastuszak Magdalena
Placec Anastasia
Skorwider Eugeniusz
Stachura Tomasz
Stokłosa Bartłomiej
Szymankiewicz Szymon
Tatarkiewicz Michał
Wojewoda Martyna
Ziółkowski Maciej


Jury meeting
On 9 May 2017, the meeting of the Jury of the XXVI edition of the poster competition "Safely from the start" was held at the Central Institute for Labor Protection - National Research Institute.
The jury awarded three main prizes and five equivalent distinctions, and 50 poster designs (including those awarded and honored) were chosen for presentation at the post-competition exhibition and in the catalog.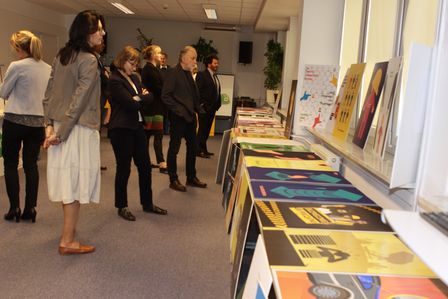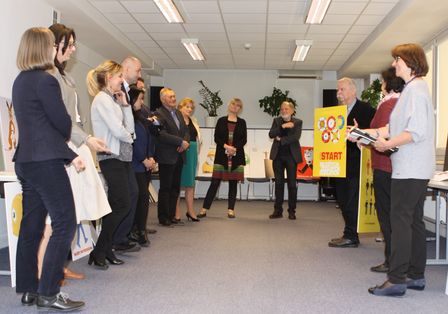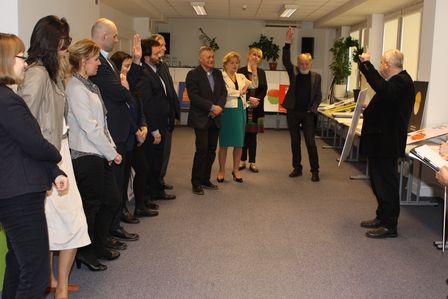 SAFE FROM THE START
On the threshold of adult life, everyone faces the challenge of taking up work. This is connected with stress concerning one's own expectations from oneself, as well as those of the employer. When choosing their first job, young people usually focus on financial conditions, and not working conditions. Not only do they lack experience, but also knowledge, competence and sometimes physical and psychological maturity. At the same time, they do not lack self-confidence, which, paired with susceptibility to influences, may lead to risky behaviours in the working environment.
Employers do not usually see it as necessary to supervise young workers in a particular way, or to provide enough instruction or training. Yet the psychological conditions, i.e. ability to foresee life-threatening situations, determine the young workers' attitude towards safety at work.
Statistical data signal the importance of the problem of young workers' safety, indicating that it is mostly the young people with little experience at their workstations who suffer from accidents. Over 30% of the injured in work accidents have been working for less than 1 year, and over half of the injured . less than 5 years (Central Statistical Office of Poland). The short experience at a workplace is often the reason for poor adaptation to its work organisation principles: too little knowledge of technological processes or instructions for the use of machinery and appliances, influencing safe work. Moreover, it is often accompanied by a lack of any kind of knowledge of the hazards.
Therefore it is crucial to care about the safety of the youngest workers. The competition "Safe from the start" meets the need of making the young workers aware of the importance of their pro-safe attitude, and employers . of necessary care about their young personnel.