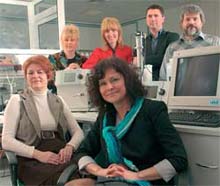 Personal Protective Equipment Department
Employees (sitting, from left): K. Bociek,
K. Majchrzycka, Ph.D. (Eng.) (Head).
Standing, from left:
R. Głodek, A. Brochocka, Ph.D. (Eng.),
P. Pietrowski, Ph.D. (Eng.) (Respiratory System
Protection Laboratory's Head), K. Makowski
The Department was headed by Kazimierz Aścik, Ph.D. (Eng.). As a result of a division of the departments' tasks, in 1956 the Department of Protective Clothing was established in Warsaw (headed by Zofia Pawłowska, Ph.D., Eng) and the Department of Respiratory Protection Devices in Łódź (headed by Stefan Furs, Ph.D. Eng.). After further reorganisation, the Department of Personal Protective Equipment was re-established in 1974, headed by Stefan Furs, Ph.D. (Eng.) who was replaced by Henryk Bargieł, Ph.D. (Eng.) in 1988. In 1985, office facilities were provided to integrate the Department, and further laboratories were moved from Warsaw to Łódź.
The Department's head office, located in Łódź at Wierzbowa 48, was modernised several times between 1990 and 2006, and the extension and adaptation of the laboratories was completed. Modern laboratories were established for research into protective and usage parameters for materials and all types of personal protective equipment to conform with EU requirements.
The Department is currently headed by Katarzyna Majchrzycka, Ph.D. (Eng.).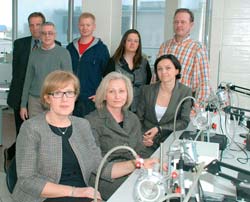 The Department's growth was accompanied by hiring specialised scientific and technical personnel. Currently it employs 31 people: 1 professor, 16 scientific employees, 11 engineering and technical employees, and 3 administrative staff.
There are 5 research and testing laboratories within the Department:
the Laboratory for Respiratory Protective Devices (headed by Agnieszka Brochocka, Ph.D. (Eng.), D.Sc.),
the Laboratory of Safety Helmets and Equipment Protecting Against Falls from a Height (headed by Krzysztof Baszczyñski, Ph.D., Eng., D.Sc.),
the Laboratory of Protective Clothing (headed by Anna Dąbrowska, Ph.D. (Eng.),
the Laboratory of Eye and Face Protection (headed by Grzegorz Owczarek, Ph.D., Eng.),
the Laboratory of Hand and Foot Protection (headed by Emilia Irzmańska, Ph.D. (Eng.), D.Sc).
The Department focuses on science and research, as well as on development and goal-driven projects for domestic and European markets for implementing innovative products, taking new hazards and changing user demands into account.
The Department has participated in the European assessment system for personal protective equipment (PPE) conformity since 2004, with primary requirements of Directive 89/686/ EEC relating to personal protective equipment as a notified body no. 1437.
It also consults with manufacturers and PPE users regarding appropriate choices depending on the hazards and specifics of the working conditions, through the provisions of Directive 89/656/EEC on the minimum health and safety requirements for the use of personal protective equipment.
Due to the interdisciplinary nature of the research projects, the Department cooperates with numerous scientific centres, in particular in the Łódź region. It is worth emphasising the participation in the Loris Tex project for the textile industry development strategy called 'Transformation of the textile and clothing industry from labourintensive to science-intensive', and in the platforms for exchanging knowhow between research and the industry through the Centrum Zaawansowanych Technologii
Pro Humano Tex
(
Advanced Technologies Centre
) and the Polska Platforma Technologiczna Przemysłu Tekstylnego (
Polish Technology Platform for the Textile Industry
).
Between 2006-2008, the cooperation resulted in projects funded by the European Union, including 'New generation of filtering materials incorporating nanofibres and modifiers' (in a consortium with the Łódź University of Technology and Filter Service Sp. z o.o.), and a project called 'Firefighter clothing with a textronic system of monitoring physiological parameters' (in cooperation with the Łódź University of Technology and Arlen S.A.). The cooperation with the Łódź University of Technology is ongoing as part of the Operational Programme "Innovative Economy" for technologically advanced polymer and carbon materials protecting against nanoparticles, vapours and gases.
Research and implementation activities conducted by the Department have resulted in the creation of numerous new designs of PPE presented during domestic and international trade fairs and exhibitions. The designers of these solutions have frequently won medals for scientific research and innovation. The most important award-winning designs over the last decade include an outfit protecting against microwave radiation; protective clothing with a system of active thermal control; protective overalls; interactive underclothes; firefighter clothing with a textronic system for monitoring physiological parameters; automatic welding filters; optical filters with interference coating; a FFP3 D filtering half mask with a moisture-absorbing layer; a bioactive filtering material for individual respiratory protection against bioaerosols; a helmet with face protection and air supply; and filtering device with hood for escape from fire.
In the last 10 years, the Department of Personal Protective Equipment established a laboratory to examine PPE equipped with modern measuring instruments which enables research into PPE for the purposes of EC assessment alongside other scientific activity. A laboratory of chemical analyses to study clothing, gloves and protective footwear resistance to penetration by harmful chemical substances was established in the newly-opened Department building. Modern separation techniques, as well as state-of-the-art qualitative and quantitative analysis methods, are used to determine the barrier capacity of protective products.
The Laboratory for Respiratory Protective Devices conducts research into the real conditions in which equipment is used and their impact on the comfort of use. Research into nanoparticle filtration is worthy of note, where the Laboratory boasts the most modern instruments. The footwear research laboratory develops safe, protective and occupational footwear, as well as non-occupational footwear. The facilities for testing slippery footwear, measuring the dynamic friction coefficient, and guaranteeing the footwear's good shock absorption, are unique in the country. This is also the case for the COUPTEST device used to test glove and protective clothing resistance to cutting with sharp objects.
The Laboratory which develops equipment protecting against falls from a height studies fall prevention and the properties of protective equipment. The most important issues studied at the Laboratory include the dynamic forces affecting humans, means of preventing falls while different types of protective equipment are in use, and their shock-absorbent properties. The Laboratory of Eye and Face Protection is equipped with state-of-the-art optical testing equipment including a high-quality spectrophotometer used to test all types of face and eye protection in compliance with European standards.
All of the measuring and testing equipment at the Department of Personal Protective Equipment has been covered by a quality management system since 1994 and is now consistent with the PN-EN ISO/IEC 17025:2005 standard under accreditation granted by the Polish Centre for Accreditation.
Department of Personal Protective Equipment employees are involved in international cooperation on improving technical competences through participating in standardisation Working Groups and CEN sub-committees, at the level of European coordination of cooperation among EU notified bodies. The cooperation also includes laboratory standards certification as well as participation in research projects conducted as part of EU framework programmes.
Between 2004-2006, the Department participated in a
CRAFT
2003-508191 project called
Development of a cost effective moisture and thermal barrier layer for protective clothes based on an innovative combination of warp-knitted textiles and hydrogel polymer coatings, introducing new standards which will prevent low quality imports and increase competition of 20000 SMEs – SAFE&COOL
, an international project conducted within the EU 6th Framework Programme.
A model for protective clothing with an effective barrier against moisture and heat penetration was developed as a result. At present, the Department is coordinating an international project called
i-Protect
(
Intelligent PPE system for high risk and complex environments
), conducted as part of the EU 7th Framework Programme. The project aims to develop an innovative system of PPE through integrating electronics, material engineering (optical fibres) and nanotechnology as well as currently used PPE designs. The results are intended for chemical and mining rescue services, as well as firefighting services.
2010 saw the commencement of the Elaboration of new type of protective gloves from basalt fibers for hot workplaces (BAGLO) project, submitted as part of the EUREKA E! 4505 initiative by a scientific and industrial consortium comprising partners from Poland and the Czech Republic. The Department will continue its development of innovative PPE solutions, as PPE users and manufacturers demand improved ergonomics as well as protective properties in PPEs.