70TH ANNIVERSARY OF CIOP-PIB
70 years of activity of the Central Institute for Labour Protection - National Research Institute for the benefit of workers and employers in Poland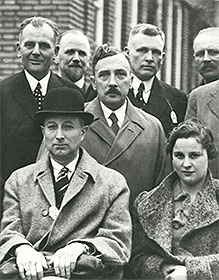 A. Mazurkiewicz (in the middle), the director of the Occupational Safety Devices Design Office and then, after the reorganisation, the first Director of CIOP; Geneva; 1950
On 4th April 1950, the Sejm of the Republic of Poland, recognising the role of workers safety in the recovering national economy, passed a law on the establishment of the Central Institute for Labour Protection.
The Institute became a successor of the Occupational Safety Devices Design Office, which was established in the interwar period.
The statute of the Institute was adopted by order of the President of the National Commission for Economic Planning on 26th May 1950. Since then, CIOP has gained a legal entity and competences to issue scientific and popular publications in the field of labour protection as well as to manufacture occupational health and safety equipment and devices. At that time, the Institute consisted of nine departments, located at 1 Tamka Street in Warsaw, and four regional industry-related branches (in Kraków, Bytom, Łódź and Gdańsk).
During the seven decades of the Institute's activity there have been many changes in the world of work, in terms of hazards, technology and technique, work requirements as well as employees' capabilities and priorities.
The scope of the Institute's activities and the applied tools have also changed, even the Institute's premises, which are now located at 16 Czerniakowska Street in Warsaw, alongside with the modern Tech-Safe-Bio Laboratories.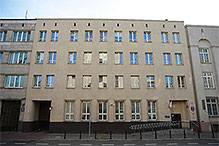 The first premises of CIOP
– 1 Tamka Street, Warsaw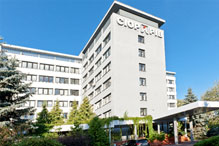 The premises of CIOP since 1992
– 16 Czerniakowska Street, Warsaw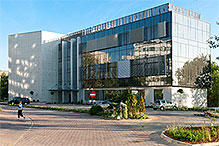 Modern Tech-Safe-Bio Laboratories
– 16 Czerniakowska Street, Warsaw
Only one thing has not changed: the human (both the worker and the employer) still remains at the centre of all the activities aimed at labour protection.
Historical outline…
A long, long time ago in the laboratories of the Institute – archival photo gallery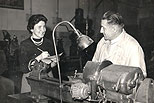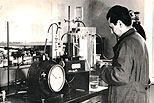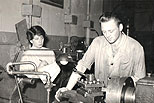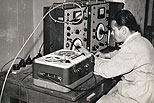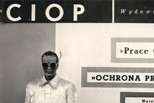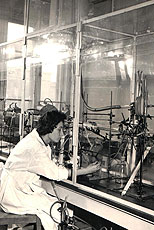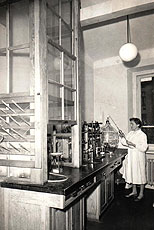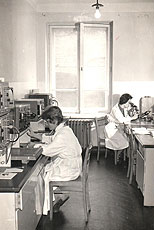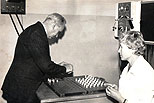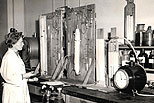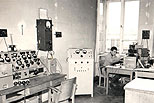 More photos