STRESS, NOISE, ACCIDENTS
Outdoor exhibition of posters dedicated to safety at work.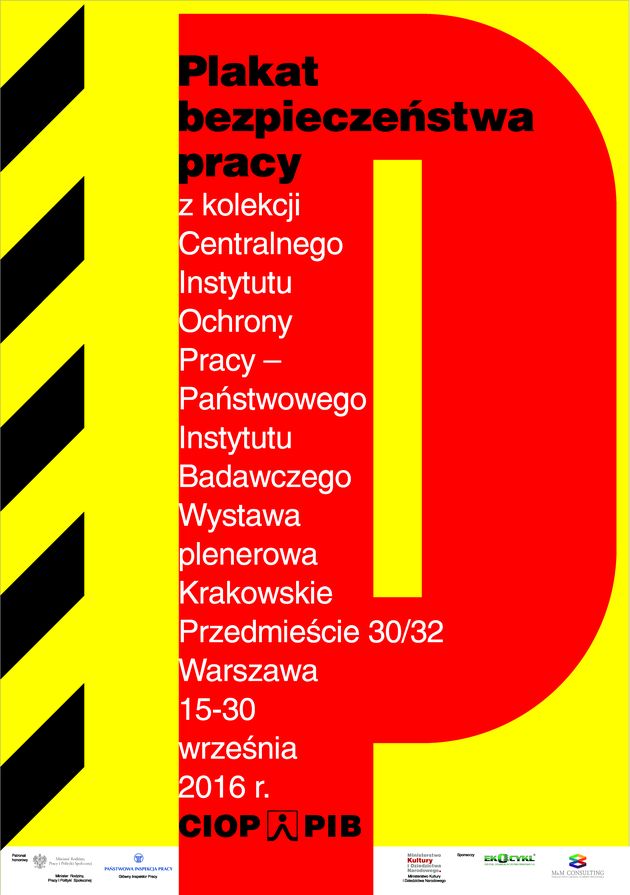 From 15 to 30 September 2016 an exhibition of posters dedicated to health and safety of man in the working environment was presented in Poland in front of the Warsaw University building at Krakowskie Przedmieście 30/32. The presentation was aimed at supporting measures to improve working conditions and promoting a safety culture among wider public.
"Occupational safety posters created by professional artists stir up the imagination, sometimes entertain, always make us think. They make people aware of the fact that safety cannot be superficial. They point out that we have the right to a safe, non-injurious job, but also that security depends very much on us" - said Danuta Koradecka, Director of CIOP-PIB.
The sixty posters presented at the exhibition were the results of subsequent editions, organized for 20 years by the Central Institute for Labor Protection - National Research Institute. The competition is co-organised with Academies of Fine Arts in Cracow, Warsaw and Lodz. The participants are artists, professors and students of artistic universities in Poland and abroad.
The outdoor exhibition was under the patronage of the Minister of Family, Labor and Social Policy, Chief Labor Inspector and Ministry of Culture and National Heritage.
The sponsors of the exhibition were Eko-Cykl Organizacja Odzysku Opakowań S.A. (Organization of Packaging Recycling) and M&M Consulting.

MORE INFORMATION
The Occupational Safety Poster Competition has been organised by the Central Institute for Labour Protection – National Research Institute since 1997. The purpose of the competition is to obtain posters promoting the issues of occupational safety and health protection of man in the working environment. It points out the dangers that occur in different sectors of the economy and in different occupational groups. More about the contests: www.ciop.pl/osh-poster-competition
The Central Institute for Labour Protection – National Research Institute is the main research institution in Poland comprehensively dealing with improving working conditions according to human psychophysical abilities. The subject of the Institute's activity is conducting research and development works leading to new technical and organisational solutions in the field of labour protection, related to occupational safety, health and ergonomics as well as other tasks essential for reaching the goals of the state's socio-economic policy in this field. More information: www.ciop.pl/en
Aleksandra Ławicka-Cuper

Remember about occupational risk
Pamiętaj o ryzyku zawodowym

Jakub Jagiełło

Noise
Hałas

Anna Włodarska

Lighten the load
Mniej dźwigaj

Marta Semaniszyn

Don't let them scoop you up.
Nie daj się nabrać.

Jakub Haremza

Stress in 21st century
Stres XXI wieku

Agnieszka Popek-Banach, Kamil Banach

Fragmentated disks.
Walk away from the computer –give your disks a rest
Fragmentacja dysku.
Odejdź od komputera – daj odpocząć dyskom


Małgorzata Komorowska

Think ahead! Safety first.
Przewiduj! Bezpieczeństwo przede wszystkim.