CIOP-PIB participates in an international project CONfigurable CollaborativE Robot Technologies (CONCERT). The project is conducted under Horizon2020 ICT-47-2020 Research and Innovation action (Grant Agreement no. 101016007). The project has received funding for 3 years, from 2021 to 2023.


General information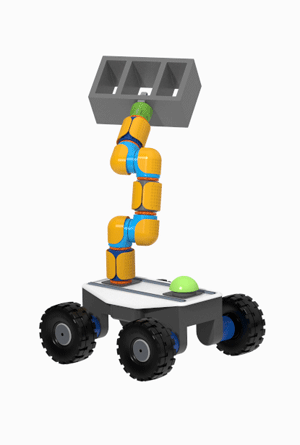 The CONCERT project focuses on the development of robot technologies aimed at a novel concept of configurable robot platforms, which can be explored in application domains with unstructured, variable and evolving workspace settings and tasks.
The goal of the project is to make a transition from the current lower power general-purpose collaborative robots to a new generation of collaborative platforms that can safely collaborate in tasks demanding human-scale forces while ensuring safety on the fly, implement efficient collaboration principles and demonstrate quick adaptability to address less standardized and more unstructured environment and task settings.
The project vision proposes to develop a new paradigm of high power/strength, adaptable, collaborative robots based on modular and configurable robot hardware with adaptive physical capabilities, automatic deployment of control and online safety verification methods. Multi-modal and multi-state perception and supervision tools provide enhanced human, robot and task execution awareness enabling the implementation of adaptive shared autonomy and role allocation planning in human-robot collaboration.
The development of the CONCERT technologies is driven by use case scenarios from the construction industry, a sector with significantly high socioeconomic impact, offering both an extremely challenging, but highly motivating and relevant domain for demonstrating and validating rapid deployment and interoperability of the CONCERT solutions.
The CONCERT technologies will be tested in realistic construction scenarios thanks to the involvement of Budimex in the project. The project solutions will be validated in relevant construction tasks characterised by high payloads and diverse workspace sizes and settings, requiring different robot arrangements to perform
them.
CIOP-PIB's contribution
CIOP-PIB is a leader of WP6 End-user requirements which focuses on developing acceptability and usability requirements for the collaborative robot technology, formulating the concept of societal and psychosocial opportunities and risks of introducing the configurable cobots into the working environment and defining occupational health and safety guidelines for using such robots on the construction site. CIOP-PIB will also be engaged in WP7 Use-case definition and technology validation in which it will lead two tasks: T7.5 Occupational health and safety, acceptability and usability assessment and T7.6 Assessment of societal and psychosocial impact.
Project Consortium
The project consortium involves six partners from four different European countries: Italian Institute of Technology (Italy) as a project coordinator, the Technische Universitaet München (Germany), Fraunhofer Italia Research Scarl (Italy), Profactor GMBH (Austria), Centralny Instytut Ochrony Pracy - Państwowy Instytut Badawczy (Poland), Budimex Spółka Akcyjna (Poland).
More information about the project:
https://opentalk.iit.it/en/researchers-to-design-a-platform-for-configurable-collaborative-robots/
Contact information
Anna Koržinek
International Cooperation Division
Central Institute for Labour Protection - National Research Institute
e-mail: ankor@ciop.pl