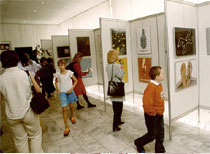 The Central Institute for Labour Protection – National Research Institute has been organising the occupational safety poster competition since 1997. The purpose of the competition is to obtain posters promoting the issues of occupational safety and health protection of man in the working environment.
The competition is organised in cooperation with Academies of Fine Arts (Cracow, Warsaw, Lodz) and under the patronage of the Minister of Labour and Social Policy and Chief Labour Inspector...
More information
Occupational Safety Poster Competition
- the 29th edition (2020): Biohazards
Central Institute for Labour Protection - Research Institute in Poland organises Occupational
Safety Poster Competition every year. This year we decided that the theme
of the 29th edition of the Occupational Safety Poster Competition will be "Biohazards today".
The winners are chosen
More information