Closing Conference
Psychological health and well-being in restructuring:
Key effects and mechanisms (PSYRES)
Brussels, November 15th
We are happy to announce that the Final Conference of the PSYRES project took place in Brussels on November 15th, 2011.

During the PSYRES conference results of the project were presented. Furtheremore, the issues focused on what had been achieved so far and what should be done in this area in the future were discussed.

The aim of the PSYRES project - Noortje Wiezer


The story behind the numbers - Tanja de Jong


The parameters for monitoring the restructuring process - Maria Widerszal-Bazyl


The reasons and paths of how restructuring can affect employees' well-being - Krista Pahkin


Preventive actions and strategies to minimize negative psychological health impacts of restructuring - Karina Nielsen

---
The kick off meeting: March 9th 2010, Amsterdam

Working group meeting: September 14-15th 2010, Helsinki

Working group meeting: November 4-5th 2010, Copenhagen

Working group meeting: 31.01.-01.02.2011, Warsaw
---
PSYRES group's proposal "
Health and Well-being in restructuring: quantitative results
" has been accepted as a symposium presentation at "
Work, Stress and Health 2011: Work and Well-Being in an Economic Context
" conference - May 19-22, 2011, Orlando, Florida, USA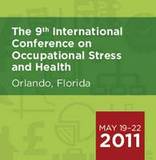 Content of the Symposium
Introduction
Effects of new organizational ownership on employees' job insecurity and psychological health and well-being
Karina Nielsen, Ph.D., Jorgen Vinslov Hansen, Ph.D., National Research Centre for the Working Environment, Denmark
Presentation
Abstract
Effects of organizational merger on employees' psychological health and well-being
Mattila-Holappa P1, Väänänen A1,2, Koskinen A1, Pahkin K1, Leppänen A1
1 Finnish Institute of Occupational Health, Finland
2 University of Tampere, Finland
Presentation
Abstract
The impact of restructuring on survivors' wellbeing: mediating and moderating factors
Tanja de Jong, M Sc, Noortje Wiezer, Ph.D., Maartje Bakhuys Roozeboom, M Sc, Catelijne Joling, Ph.D.,
TNO, the Netherlands
Presentation
Abstract
Restructuring, its appraisal and employees well-being: piloting the new restructuring questionnaire
Maria Widerszal-Bazyl1, Ph.D., Zofia Mockałło1, M Sc and the PSYRES group
1Central Institute for Labour Protection-National Research Institute, Poland
Presentation
Abstract