Thermal Laboratory Loads possesses modern testing equipment allowing to perform comprehensive tests of clothing, sleeping bags, microclimate and with its impact on people in the working environment.
Our laboratory is equipped with a state-of-the-art Weiss climatic chamber (currently the best in Poland) boasting the following parameters:
1°C /min. on average
1°C /min. on average
humidity range 20% ÷ 90% r.h.
air velocity range 0.1 ÷ 3 m/s.
During tests with human beings fresh air in the amount of 50 to 100 m3/h is supplied to the chamber.
The climatic chamber is used for performing tests on thermal manikin (clothing insulation and sleeping bags temperatures assessment) or volunteers (the thermal load assessment when working in different thermal environments, including tests with the use of protective clothing).
All tests are performed according to the requirements of applicable EU standards.
Thermal manikin
Our laboratory owns a 16-segment, thermal manikin TM 3.2/R110, named Diana, made by PT-Teknik, Denmark , a unique device of that type in Poland, used for measuring clothing thermal insulation (according to EN 342:2004 and EN ISO 15831:2004 standards), sleeping bags temperatures measurements (EN 13537:2002), and for testing the thermal environment (thermal comfort inside vehicles, etc.).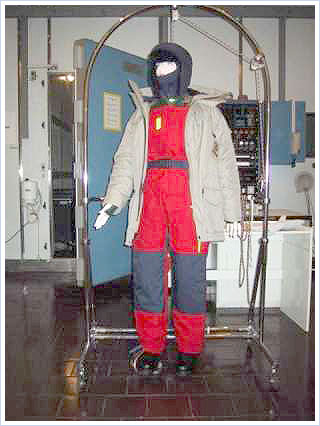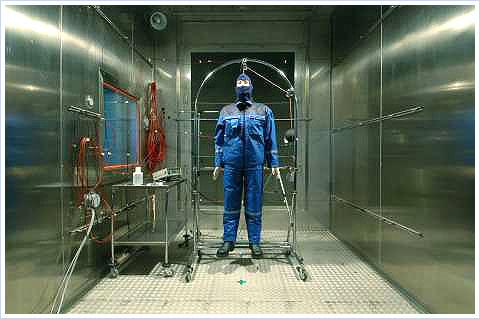 The thermal manikin inside climatic chamber
Microclimate meters
Our laboratory is equipped with a set of modern meters measuring and recording parameters of the microclimate work stations, including a B&K Indoor Climate Analyser with the following modules: Heat Stress Module WBGT), Dry Heat Loss Module and Comfort Module.
Equipment for physiological tests
Our laboratory is equipped with a set of modern heart rate monitors (including those applying the Holter method and using software allowing to analyze heart rate fluctuations), recording local skin surface temperatures, internal temperature, as well as temperature and humidity under clothing. To measure the human metabolism speed in laboratory conditions we use an MMC device (Metabolic Measurement Card Sensor Medics), while field tests are performed with the use of a portable Cardiopulmonary Testing System Oxycon Mobile.
The Thermal Loads Laboratory conducts the following tests:
• work environment microclimate (moderate, hot and cold environments), according to: EN ISO 7730:2005, EN 27243:1993, EN ISO 7933:2004, ISO TR 11079:1993;
• protective clothing (tests on volunteers and on the thermal manikin), according to: EN ISO 9886:2004; EN ISO 12894:2001;EN 342:2004; EN ISO 15831:2004.
The laboratory offers the following services:
• certification of clothing according to : EN 342:2004, EN ISO 15831:2004;
• certification of sleeping bags according to EN 13537:2002;
• assessment and analysis of workplaces microclimate;
• assessment of employees' efficiency when working in hot and cold environments according to EN ISO 9886:2004; EN ISO 12894:2001.
We wish to invite businesses, as well as R&D units to cooperate in the following fields:
• designing and modeling of sportswear, sleeping bags, as well as casual and special-purpose clothing (military clothing, outfits for hang-gliders, professional sportswear, etc.);
• testing the influence of temperature and humidity on technical equipment and on construction materials testing thermal environments inside vehicles (cars, railroad cars, planes, etc.);
• implementing projects within the framework of international scientific and research cooperation.
Head of the Thermal Loads Laboratory:
Magdalena Młynarczyk, Eng. PhD
phone: (+48 22) 623 32 76,
e-mail: m.mlynarczyk@ciop.pl