International dimension of safety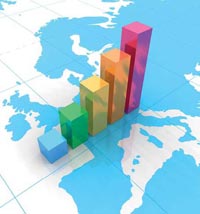 An extraordinarily dynamic development in the Institute's international cooperation has taken place within the last years, especially following Poland's accession to the EU, and this cooperation now constitutes a very important part of the Institute's activity. It mainly appears in the form of international projects; bilateral cooperation with foreign centres, scientific networks and international organisations; participation in the works of advisory bodies to the European Commission; and the participation of Institute employees in foreign scientific conferences, as well as the organisation of such conferences and other meetings at the Institute. The Institute has also participated in projects within European Union Framework Programmes. The first of those projects were realized under the EU 5th Framework Programme (1998-2002), and the participation gradually increased in successive EU Framework Programmes. The Institute's involvement in Framework Programmes projects is increasing every year. Currently CIOP-PIB is actively participating in Horizon 2020 projects.

The most important international projects conducted with significant Institute participation within EU Framework Programmes include:
Smart, Personalized and Adaptive ICT Solutions for Active, Healthy and Productive Ageing with enhanced Workability – Ageing@Work (H2020, 2019-2021)


Integrating Research Infrastructure for European expertise on Inclusive Growth from data to policy – InGRID-2 (H2020, 2017-2021)


Smart and adaptive interfaces for INCLUSIVE work environment – INCLUSIVE (H2020, 2016-2019)


Coordination Action for the early implementation of the Joint Programming Initiative (JPI) 'More Years – Better Lives – the Challenges and Opportunities of Demographic Change' – J-AGE (FP7, 2012-2014)


Innovative strategies, methods and tools for occupational risks management of manufactured nanomaterials (MNMs) in the construction industry - SCAFFOLD (FP7, 2012-2014)


Coordination of European Research on Industrial Safety towards Smart and Sustainable Growth – SAF€RA (FP7, 2012-2014)


Intelligent PPE system for personnel in high risk and complex environments – i-Protect (FP7, 2009-2012) – the idea of the project topic and of the consortium formation was developed by the Central Institute for Labour Protection – National Research Institute, which subsequently assumed the role of project coordinator


New and Emerging Risks in Occupational Safety and Health (OSH) – Anticipating and Dealing with Change in the Workplace Through Co-ordination of OSH Risk Research – NEW OSH ERA (FP6, 2006-2010)


Inflammatory and genotoxic effects of engineered nanomaterials NANOSH (FP6, 2006-2009)


Effects of Exposure to Electromagnetic Fields: from Science to Public Health and Safer Workplace – EMF-NET (FP6, 2006-2008)


Development of a European Psychosocial Risk Management Framework PRIMA-EF (FP6, 2006-2008)


Investigation of Premature Departure from Work – NEXT Study (FP5, 2004-2005)


The Institute cooperates internationally within network structures. At present, they include:


International Group of Directors of Occupational Safety and Health Research Institutes – the Sheffield Group is an informal group established in 1989 on the initiative of the UK Health and Safety Executive/Health and Safety Laboratory. Group members include CEOs of leading institutes in European countries, the United States, Canada, Australia, and others; all members meet annually.


PEROSH – Partnership for European Research in Occupational Safety and Health – a network of institutes dealing with occupational safety and health in EU countries. The aim of PEROSH activity is cooperation and
coordination in research conducted by individual institutes to achieve a healthier, longer and more productive professional life for employees.


EUROSHNET – EURopean Occupational Safety and Health NETwork – the Institute also participates in this network, established in October 2001, which focuses on the issues of standardisation, testing and certification.
For many years now, the Institute has been cooperating with the most prominent international organisations operating in occupational safety and health – the International Labour Organisation and its component unit – the European Agency for Safety and Health at Work, as the Agency's Focal Point nominated by the Ministry of Labour and Social Affairs.

The Institute employees have frequently been delegated by the Polish Government / Ministry of Family, Labour and Social Policy to represent Poland on such European Commission bodies as:
Management Board of the European Agency for Safety and Health at Work in Bilbao – since 2004
ACSH – Advisory Committee on Safety and Health at Work with the Directorate-General for Employment, Social Affairs and Equal Opportunities, and its working groups – since 2003
The participation of Institute employees in the most prominent international scientific conferences and seminars, and their presentations of the results of research conducted at the Institute in the form of lectures and posters, have made it possible to create and popularise the image of the Institute as a competent scientific entity in occupational health and safety and ergonomics which is recognised on the international forum. In practice, this has resulted, among other things, in the Institute's scientific employees being invited to participate in numerous international projects.