The Department of Safety Engineering:





creates the scientific foundation for identifying, testing, assessing and controlling hazards due to mechanical and electrical agents, optical radiation as well as occupational risk connected with those hazards,

developing requirements, criteria and methods for testing and conformity assessment of machinery, collective protective equipment, work stations and technological processes with respect to occupational safety and health requirements,

conducting laboratory tests and conformity assessment of machinery, work stations, and collective protective equipment with respect to their conformity with occupational safety and health requirements,

developing new technical and organisational solutions eliminating or limiting the above mentioned hazards and strenuousness in the working process.


Technically speaking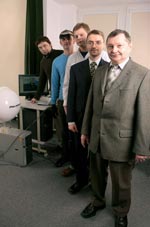 Marek Dźwiarek, Ph.D. (Eng.).
with the VR Lab's Team
The current
Department of Safety Engineering
was officially establishe in 1990 and comprised the laboratories of Technology and Design, Optical Radiation and Eye Protection, and Electrical Hazards, as well as the focus groups for Labour Safety in Metallurgy (based in Bytom) and in Marine Economy (based in Gdańsk). The Department was headed by Józef Gierasimiuk, M.(Eng.) Sc., from its very establishment. After his retirement in 2004 he was replaced by Marek Dźwiarek, Ph.D. (Eng.).
At present, the Department of Safety Engineering employs 26 people: 4 professors, 1 assistant professor, 5 research associates, 7 assistant lecturers, 6 specialists and 3 technicians.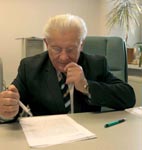 Józef Gierasimiuk, M.(Eng.)
The Department's activities are focused on improving the identification of mechanical, electrical and optical radiation hazards, as well as on developing methods for assessing the occupational risk associated with them. The Department continues to develop and improve principles and solutions reducing risk levels by utilising state-ofthe- art tools and advanced computer technologies, virtual reality technologies, or the concept of neural networks, which are also utilised to identify the causes and circumstances of workplace accidents and the behaviour of employees in hazardous situations.


The Department comprises:
the Laboratory of Mechanical Hazards (headed by Krystyna Myrcha, Ph.D., Eng.),
the Laboratory of Electronic Protective Systems (headed by Marek Dźwiarek, Ph.D., Eng.),
the Laboratory of Optical Radiation (headed by Agnieszka Wolska, Ph.D., Eng.)
and the Laboratory of Virtual Reality Techniques (headed by Andrzej Grabowski, Ph.D., Eng.), the latter established in 2010.
It is impossible to mention all the scientific and research projects carried out at the Department during the last 60 years; even the most significant ones. The results of research projects conducted by the Department in the last 10 years can be summarised as follows:
implementation in the STER computer system: the method for assessing the risk associated with mechanical hazards, the electrocution of professional power engineers and power machinery and equipment operators, the method for assessing the risks associated with exposure to non-laser and laser optical radiation, and the method for assessing occupational risks associated with lighting.
computer software: "PRO-M" in risk assessment at the machinery design stage, "Promlaser" to assess the occupational risk of laser radiation reflected at workstations, and "LaserShieldSolver" to analyse the risk of reflected laser radiation and to determine the laser enclosures angle.
the method of assessment and work station design to examine laser scanners.
the determination of the impact of cutting tool parameters on kickback during wood-cutting with a chainsaw, and methods to reduce it.
the development of principles for determining the safety integrity of systems responsible for the safe functioning of machinery and other manufacturing equipment.
the recommendations pertaining to the selection and location of danger zones, and the connection of protective equipment to industrial machinery and production line control systems depending on risk assessment results.
guidelines referring to safety requirements in high-capacity storage warehouses and in internal transportation.
research stations conducting research into the safety of the use of wheelchairs and other means of technical support by people with disabilities.
scenarios for the visualisation of mechanical hazards in the wood and metal industries
methods for applying virtual reality technologies in order to design and assess workstations and machinery with respect to working safety and ergonomics, and with respect to machinery remote control (tele-operation); the development and utilisation of computer simulations that reconstruct and analyse accidents; conducting training and developing attitudes through the application of interactive computer simulations and multimedia presentations:
the methods and software for computer modelling and simulation of the evacuation process of people from buildings
model of a visual protective system utilising neural networks to analyse stereoscopic images.
Other important work undertaken by the Department involves research into occupational exposure to natural ultraviolet radiation in order to determine criteria and methods for assessing the associated occupational risk faced by employees working at external workstations; the development of research procedures and studying optical radiation emissions by machinery in order to determine emission categories; the development of models of light fittings adapter to different types of workstations (office, wood and metal machine tools, for people with visual impairment) with the application of modern and energy-efficient light sources (such as electroluminescent diodes); and participation in the development of the provisions of Directive 2006/25/EC regarding employee exposure to artificial optical radiation and its implementation in the Polish law.
As well as its scientific and research work, the Department of Safety Engineering also conducts other activities on working safety in the broad sense. The conformity assessment system involves examining machinery (in particular that used in wood processing), non-contact and ambidextral protective equipment, electrical insulating and protective equipment, insulated tools, and portable ladders (for certification purposes).
It is worth noting that technical competence and the research quality assurance system implemented were the grounds for the Department of Safety Engineering receiving accreditation by the Polish Centre for Testing and Certification in 1994. Approximately 110 orders to test products were conducted in the years 2000-2009. The results of the tests were used in certification and control as part of supervision over granted certificates, or in market supervision procedures upon the order of the National Labour Inspectorate and the Trade Inspectorate. Department employees also certify products within the Machinery and Means of Collective Protection Certification Team. They also participate in both domestic and regional standardisation work (currently European, previously within the CMEA). Since the establishment of the Technical Committee no. 158 for Machinery and Technical Equipment Safety and Ergonomics – General Issues (1994) as part of the Polish Committee for Standardisation, its work is attended by Józef Gierasimiuk, M.(Eng.) Sc. (chair) and Antoni Saulewicz, M.(Eng.) Sc. (secretary).
Moreover, Department employees actively participate in other committees: Technical Committee no. 268 for Machine Tools and Wood Machining Equipment; Technical Committee no. 281 for Electrical Safety of Machinery; Technical Committee no. 47 for Pumps; Technical Committee no. 240 for Plastics and Rubber Compounds Processing Machinery and Equipment; and Technical Committee no. 59 for Electron Tube and Laser Equipment Vacuum Technology. Andrzej D¹browski, Ph.D. Eng., participates in a working group developing a guidebook on employee protection in agriculture and forestry on behalf of the Advisory Committee for Safety and Health at Work (ACSH), with the European Commission's Directorate-General for Employment, Social Affairs and Equal Opportunities. 15
The Department of Safety Engineering is heir to the Institute's Department of Design and Technology, established in 1966 and headed by Franciszek Głuski, M.Sc., (Eng.), an experienced machinery designer and researcher. The primary task of the Department was the incorporation of the latest requirements and comprehensive solutions in industrial practice with regard to working safety and ergonomics, and methods for testing machinery's and other technical structures' compliance, starting with the design stage, based on global and the Central Institute for Labour Protection's own research.
In 1971, the Department of Design and Technology incorporated the Bytom-based Department of Metallurgy as a branch office, at that time headed by Mieczysław Godecki, M.Sc. (Eng.). The Department operated within this structure until 1977, to next become a laboratory at the Department of Engineering Psychology, transformed into the Department of Ergonomics in 1983.