Conference venue

The conference was held at the Gniew Castle Hotel****.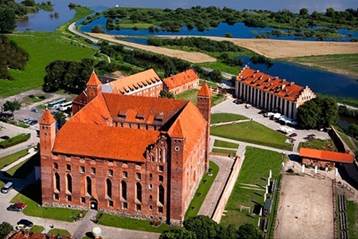 The Gniew Castle is presently the best preserved Teutonic castle in the Pomeranian region, and one of the most interesting in Poland. Built in the end of 13th century by the order of the Teutonic commander Dietrich von Spira, it was the largest and strongest fortress on the left side of the Vistula.
In its long history, the castle had several owners and functions, being, e.g. a granary as well. In 15th century, after the end of the 30-year-long war between Poland and the Teutonic Order the castle became the seat of Polish starosts.

In the second half of 17th century, the Gniew starost was Jan Sobieski (the future king), who build a new baroque building near the castle, for his wife Maria Kazimiera.

In 1772, after the first partition of Poland, the castle went into Prussia's hands. After 1939, the German occupation rulers made the castle a prison for Poles.

In the 1960s and 1970s the reconstruction of the castle started, and the medieval appearance was restored in part. Since 2010, the Polmlek company has been the owner of the castle.
Presently, the castle hosts knight tournaments, ironwork shows, youth camps etc.

Also, the castle is home of the Archaeology Museum in Gdansk (division), Knights' Reenactment Group and the Schola Cantorum Gamevensis Choir.