CONFERENCE VENUE

Conference will be organized in Zamek Biskupi**** in Janów Podlaski.
Janów Podlaski (formerly: Janów Biskupi), in its heyday, was located at the meeting point of western and eastern civilizations, and it was a melting pot of cultures and an example of harmonious coexistence of many traditions and religions. Its perfect location contributed to its prime as well as to its falls. Named after the bishop Jan Łosowicz, who had been striving for its privileges and development, the town, vigorously developing in the 16th century, fell prey to many persecutors, and the stormy history of Poland has definitely marked it.
The end of the fifteenth century was the time of expansion, the Castle - a residence of bishops, was extended; churches, an orthodox church, and a synagogue were erected. At the end of the 16th century, the town, destroyed in several sizeable fires, was left without a chance for reconstruction. The Swedes plundered the Castle, the churches and other buildings during the war between 1655-1657 and the Russians completed the vandalism a little later during the Moscow Raid in 1660. The second half of the 18th century was the time of reconstruction of the Castle on the hill; in the place of a devastated residence, bishop Paweł Turski erected a baroque palace surrounded by a moat, an English-style park, with outbuildings and ponds. The long period of the Lutsk Bishops "patronage", the most important in the history of Janów, was closed with the figure of Adam Naruszewicz, the most renowned resident of the Bishops' Castle, a great scholar, historian and poet. After his death in 1796, and after the partition of Poland, the Russian car's authorities took the residence away from the bishops
In 1816 Janów was officially renamed from Biskupi to Podlaski and became a residence of bishops of the newly created Diocese of Podlasie. After the WWII, the Bishops' Castle was taken over by the government and handed over to the Janów Horse Stud
Today, the road to Janów is busy again; the folk traditions are alive, the numerous monuments are witnesses of the region's history, and the beautiful natural environment provides rest.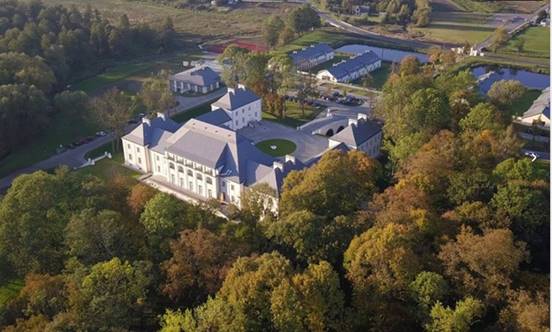 Pic. Zamek Biskupi in Janów Podlaski